SAMSON WIRE ROPE BLOCKS - 2 SHEAVES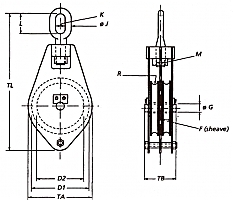 Stock No.

WLL
(tons)

Wire up
to (mm)

No of
Sheav.

Dimensions (mm)

weight
(kgs)

D1

D2

F

G

J

K

L

M

R

ТА

ТВ

TL

11.100.01.20

1

8

2

100

80

20

15

16

26

58

18

4.5

110

70

295

4

11.125.02.20

1.5

10

2

125

105

27

22

16

26

58

24

5.5

135

85

336

6

11.150.03.20

3

12

2

150

120

40

30

21

32

72

30

6.5

170

120

430

11

11.200.04.20

4

14

2

200

165

40

30

26

40

94

33

7.5

220

120

538

18

11.250.06.20

6

18

2

250

210

45

35

29

45

108

42

9.5

270

133

624

32

11.300.06.20

8

20

2

300

255

50

40

32

49

114

45

11

320

146

713

43

11.350.10.20

10

22

2

350

305

50

45

36

54

125

52

12

380

152

569

74

11.350.12.20

12

22

2

350

305

60

50

41

60

144

56

12

380

186

821

81

11.400.12.20

12

24

2

400

345

60

50

41

60

144

56

13

430

180

893

102

11.350.16.20

16

22

2

350

305

60

50

46

66

163

64

12

380

186

879

98

11.400.16.20

16

24

2

400

345

60

60

46

66

163

64

13

430

192

959

126

11.350.20.20

20

22

2

350

305

60

50

51

72

173

72

12

380

186

896

116

11.400.20.20

20

24

2

400

345

60

60

51

72

173

72

13

430

192

976

146

11.400.25.20

25

24

2

400

345

60

60

60

80

195

76

13

430

192

1065

169

11.450.25.20

25

28

2

450

390

70

70

60

80

195

76

15

480

221

1120

190

11.400.30.20

30

24

2

400

345

60

60

60

90

220

80

13

430

192

1095

184

11.450.30.20

30

28

2

450

390

70

70

60

90

220 | 80

15

480

236

1150

204

11.450.40.20

40

28

2

450

390

70

70

-

96

96

90

15

480

236

1030

225
Minimum Ultimate Strength = 4 x WLL.
WLL= Working Load Limit on head fitting.
All blocks up to 30 tons are standard supplied with swivel oval eye, for over 30 tons with swivel stud eye.
All blocks can be supplied with swivel hook, swivel stud eye or swivel jaw.
For ordering wire rope blocks with becket, the last digit of the stock number should be 1 (instead of 0).
Standard supplied with bronze bearings, other bearings available on request.