G-2130 S-2130 - BOLT TYPE ANCHOR SHACKLES








 

Bolt Type Anchor shackles with thin head bolt - nut with cotter pin. Meets the performance requirements of Federal Specification RR-C-271D Type IVA, Grade A, Class 3, except for those provi- sions required of the contractor.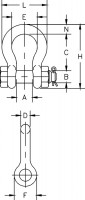 Working Load Limit permanently shown on every shackle.
Capacities 1/3 thru 150 metrics tons.
Forged — Quenched and Tempered, with alloy pins.
Hot Dip galvanized or Self Colored.
Fatigue rated.
Crosby products meet or exceed all requirements of ASME B30.26
including identification, ductility, design factor, proof load and
temperature requirements. Importantly, Crosby products meet other
critical performance requirements including fatigue life, impact
properties and material traceability, not addressed by ASME B30.26.
Sizes 1/2t - 25t meet the performance requirements of EN13889:2003
Shackles 55 metric tons and smaller can be furnished proof tested with
certificates to designated standards, such as ABS, DNV, Lloyds, or
other certification when requested at time of order.
Shackles 85 metric tons and larger can be provided as follows.
Non Destructive Tested
Serialized Pin and Bow
Material Certification (Chemical) Certification must be
requested at time of order.
Look for the Red Pin® . . . the mark of genuine Crosby quality.
Nomina
Size
(in.)
Working
Load Limit
(t) *
Stock No.
Weigh
Each
(kg)
Dimensions
(mm)
Tolerance
+/-
С-2130
S-2130
А
В
С
D
Е
F
H
L
N
С
А
3/16
1019464
-
,03
9,65
6,35
22,4
4,85
15,2
14,2
37,3
24,9
4,85
1,50
1,50
1/4
1/2
1019466
-
,05
11,9
7,85
28,7
6,35
19,8
15,5
46,7
32,5
6,35
1,50
1,50
5/16
3/4
1019468
-
,10
13,5
9,65
31,0
7,85
21,3
19,1
53,0
37,3
7,85
3,30
1,50
3/8
1
1019470
-
,15
16,8
11,2
36,6
9,65
26,2
23,1
63,0
45,2
9,65
3,30
1,50
7/16
1-1/2
1019471
-
,22
19,1
12,7
42,9
11,2
29,5
26,9
74,0
51,5
11,2
3,30
1,50
1/2
2
1019472
1019481
,36
20,6
16,0
47,8
12,7
33,3
30,2
83,5
58,5
12,7
3,30
1,50
5/8
3-1/4
1019490
1019506
,62
26,9
19,1
60,5
16,0
42,9
38,1
106
74,5
17,5
6,35
1,50
3/4
4-3/4
1019515
1019524
1,23
31,8
22,4
71,5
19,1
51,0
46,0
126
89,0
20,6
6,35
1,50
7/8
6-1/2
1019533
1019542
1,79
36,6
25,4
84,0
22,4
58,0
53,0
148
102
24,6
6,35
1,50
1
8-1/2
1019551
1019560
2,28
42,9
28,7
95,5
25,4
68,5
60,5
167
119
26,9
6,35
1,50
1-1/8
9-1/2
1019579
1019588
3,75
46,0
31,8
108
28,7
74,0
68,5
190
131
31,8
6,35
1,50
1-1/4
12
1019597
1019604
5,31
51,5
35,1
119
31,8
82,5
76,0
210
146
35,1
6,35
1,50
1-3/8
13-1/2
1019613
1019622
7,18
57,0
38,1
133
35,1
92,0
84,0
233
162
38,1
6,35
3,30
1-1/2
17
1019631
1019640
9,43
60,5
41,4
146
38,1
98,5
92,0
254
175
41,1
6,35
3,30
1-3/4
25
1019659
1019668
15,4
73,0
51,0
178
44,5
127
106
313
225
57,0
6,35
3,30
2
35
1019677
1019686
23,7
82,5
57,0
197
51,0
146
122
348
253
61,0
6,35
3,30
2-1/2
55
1019695
1019702
44,6
105
70,0
267
66,5
184
145
453
327
79,5
6,35
6,35
3
†85
1019711
-
70
127
82,5
330
76,0
200
165
546
365
92,0
6,35
6,35
3-1/2
† 120 ‡
1019739
-
120
133
95,5
372
92,0
229
203
626
419
105
6,35
6,35
4
† 150 ‡
1019757
-
153
140
108
368
104
254
229
653
468
116
6,35
6,35

* NOTE: Maximum Proof Load is 2.0 times the Working Load Limit. Minimum Ultimate Strength is 6 times the Working Load Limit.  † Individually Proof Tested with
certification. ‡ Furnished in Anchor style only and furnished with Round Head Bolts with welded handles.
Szakla Omega z zabezpieczeniem G2130 PDF