G-209 S-209 - SCREW PIN ANCHOR SHACKLES
Screw pin anchor shackles meet the performance requirements of Federal Specification RR-C-271D Type IVA, Grade A, Class 2, except for those provi- sions required of the contractor.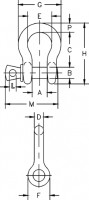 Capacities 1/3 thru 55 metric tons.
Forged - Quenched and Tempered, with alloy pins.
Working Load Limit permanently shown on every shackle.
Hot Dip galvanized or Self Colored.
Fatigue rated.
Shackles can be furnished proof tested with certificates to designated
standards, such as ABS, DNV, Lloyds, or other certification. Charges
for proof testing and certification available when requested at the time
of order.
Shackles are Quenched and Tempered and can meet DNV impact
requirements of 42 joules at -20 C.
Sizes 1/2t - 25t meet the performance requirements of EN13889:2003
Crosby products meet or exceed all requirements of ASME B30.26
including identification, ductility, design factor, proof load and
temperature requirements. Importantly, Crosby products meet other
critical performance requirements including fatigue life, impact
properties and material traceability, not addressed by ASME B30.26.
Look for the Red Pin® . . . the mark of genuine Crosby quality.


Nominal
Size
(in.)
Working
Load
Limit
(t) *
Stock No.
Weight
Each
(kg)
Dimensions
(mm)
Tolerance
+ / -
G-209
S-209
А
В
С
D
Е
F
G
Н
L
М
Р
С
А
3/16
1/3
1018357
-
,03
9,65
6,35
22,4
4,85
15,2
14,2
24,9
37,3
4,06
28,4
4,85
1,50
1,50
1/4
1/2
1018375
1018384
,05
11,9
7,85
28,7
6,35
19,8
15,5
32,5
46,7
4,85
35,1
6,35
1,50
1,50
5/16
3/4
1018393
1018400
,09
13,5
9,65
31,0
7,85
21,3
19,1
37,3
53,0
5,60
42,2
7,85
3,30
1,50
3/8
1
1018419
1018428
,14
16,8
11,2
36,6
9,65
26,2
23,1
45,2
63,0
6,35
51,5
9,65
3,30
1,50
7/16
1-1/2
1018437
1018446
,17
19,1
12,7
42,9
11,2
29,5
26,9
51,5
74,0
7,85
60,5
11,2
3,30
1,50
1/2
2
1018455
1018464
,33
20,6
16,0
47,8
12,7
33,3
30,2
58,5
83,5
9,65
68,5
12,7
3,30
1,50
5/8
3-1/4
1018473
1018482
,62
26,9
19,1
60,5
16,0
42,9
38,1
74,5
106
11,2
85,0
17,5
6,35
1,50
3/4
4-3/4
1018491
1018507
1,07
31,8
22,4
71,5
19,1
51,0
46,0
89,0
126
12,7
101
20,6
6,35
1,50
7/8
6-1/2
1018516
1018525
1,64
36,6
25,4
84,0
22,4
58,0
53,0
102
148
12,7
114
24,6
6,35
1,50
1
8-1/2
1018534
1018543
2,28
42,9
28,7
95,5
25,4
68,5
60,5
119
167
14,2
129
26,9
6,35
1,50
1-1/8
9-1/2
1018552
1018561
3,36
46,0
31,8
108
29,5
74,0
68,5
131
190
16,0
142
31,8
6,35
1,50
1-1/4
12
1018570
1018589
4,31
51,5
35,1
119
32,8
82,5
76,0
146
210
17,5
156
35,1
6,35
1,50
1-3/8
13-1/2
1018598
1018605
6,14
57,0
38,1
133
36,1
92,0
84,0
162
233
19,1
174
38,1
6,35
3,30
1-1/2
17
1018614
1018623
7,80
60,5
41,4
146
39,1
98,5
92,0
175
254
20,6
187
41,1
6,35
3,30
1-3/4
25
1018632
1018641
12,6
73,0
51,0
178
46,7
127
106
225
313
25,4
231
57,0
6,35
3,30
2
35
1018650
1018669
20,4
82,5
57,0
197
53,0
146
122
253
348
31,0
263
61,0
6,35
3,30
2-1/2
55
1018678
1018687
38,9
105
70,0
267
69,0
184
145
327
453
35,1
330
79,5
6,35
6,35
Szakla Omega bez zabezpieczenia G209