Crosby Shank Hook for Swagging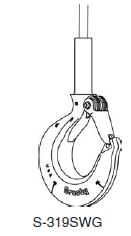 WARNING AND APPLICATION INSTRUCTIONS
•S-319SWG hooks are recommended for use with 6 x 19 or 6 x 37, IPS or XIP (EIP), XXIP (EEIP), RRL, FC or IWRC wire rope. Before using any National Swage fitting with any other type lay, construction of grade of wire rope, it is recommended that the termination be destructive tested and documented to prove the adequacy of the assembly to be manufactured.
•Use only Crosby shank hooks designed exclusively for swaging.
•A visual periodic inspection for cracks, nicks, wear gouges and deformation as part of a comprehensive documented inspection program, should be conducted by trained personnel in compliance with the schedule in ANSI B30. 10.
•For hooks used in frequent load cycles or pulsating loads, the hook should be periodically inspected by Magnetic Particle or Dye Penetrant.
•Never use a hook whose throat opening has been increased, or whose tip has been bent more than 10 degrees out of plane from the hook body, or is in any other way distorted or bent.
•Note: A latch will not work properly on a hook with a bent or worn tip.
•Never use a hook that is worn beyond the limits shown in Figure 1.
•Remove from service any hook with a crack, nick, or gouge. Hooks with a nick or gouge shall be repaired by grinding lengthwise, following the contour of the hook, provided that the reduced dimension is within the limits shown in Figure 1. Contact Crosby Engineering to evaluate any crack.
WARNING
•Loads may disengage from hook if proper proce­dures are not followed.
•A falling load may cause serious injury or death.
•See OSHA Rule 1926.550(g) for personnel hoisting by cranes or derricks. A Crosby 319 hook with a PL Latch attached (when secured with bolt, nut and pin) may be used for lifting personnel. A Crosby S-319N hook with an S-4320 Latch attached (when secured with cotter pin or bolt, nut and pin) may be used for lifting personnel.
•Hook must always support the load. The load must never be supported by the latch.
•Never exceed the Working Load Limit (WLL) of the wire rope and hook system.
•Read and understand "National Swage Swaging Products and Procedures" manual before swaging the hook.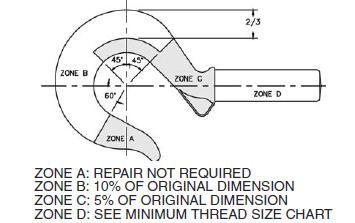 \

FIGURE 1




Never repair, alter, rework, or reshape a hook by welding, heating, burning, or bending.
•Never side load, back load, or tip load a hook (See Figure 2).
•The use of a latch may be mandatory by regulations or safety codes; e.g., OSHA, MSHA, ANSI/ASME B30, insurance, etc.. (Note: When using latches, see instructions in Understanding: The Crosby Group Product Warnings for further information.)
•Always make sure the hook supports the load. (See Figure 3). The latch must never support the load (See Figure 4).
•When placing two (2) sling legs in hook, make sure the angle from the vertical to the outermost leg is not greater than 45 degrees, and the included angle between the legs does not exceed 90 degrees* (See Figure 5).
* For angles greater than 90 degrees, or more than two (2) legs, a master link or bolt type anchor shackle should be used to attach the legs of the sling to the hook.
•See ANSI/ASME B30.10 "Hooks" for additional information.
•In accordance with ANSI B30.9, all slings terminated by swaging shall be proof tested.
•S-319SWG hooks are designed to be a component of a system, and therefore rated based on the working limit of the system of which they are attached.
•The frame code on each S-319SWG hook is to facilitate proper latch selection only, and has no reference to the working load limit of the hook.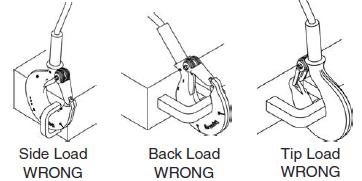 \



Figure 2


\


Wire Rope Size (in.)

Hook Frame I.D. Code

Required Swaging Die

Maximum After Swage Dimensions

Stock No.

Description

3/16

DC

1191621

1/8" Swage Button Die

0.40

1/4

FC

1192845

1/4" Swage Button Die

0.46

5/16

GC

1191621

1/4" Swage Button Die

0.46

5/16

HC

1192863

3/8" Swage Button Die

0.71

3/8

HC

1192863

3/8" Swage Button Die

0.71

7/16

IC

1192881

1/2" Swage Button Die

0.91

1/2

IC

1192881

1/2" Swage Button Die

0.91

9/16

JC

1192907

5/8" Swage Button Die

1.16

5/8

JC

1192907

5/8" Swage Button Die

1.16

3/4

KC

1192925

3/4" Swage Button Die

1.42

7/8

LC

1192949

7/8" Swage Button Die

1.55

1

NC

1192961

1" Swage Button Die

1.80

1-1/8

OC**

1192989

1-1/8" Swage Button Die

2.05
** S319C Style Hook